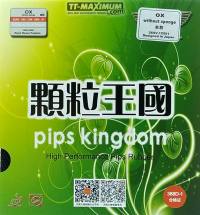 Available
popular long pips with good traction, sponge-free version
Reviews: 9
View all
DR NEUBAUER Dominance Spin sponge 47 2.1 mm
OR ORDER BY PHONE:
+38 050 250 4 250, +38 093 654 82 83
New inverted rubber series Dominance is characterised by high speed, a very grippy surface and long durability.
Its newly developed sponge comes with high tension enabling to produce an exceptionally dynamic attacking game, both for classic controlled looping and for hard topspin shots.
Most noticeably Dominance Spin has a new type of topsheet: it is very grippy, even slightly sticky, producing a maximum of rotation while serving, pushing and looping (topspin). This way the rubber manages to offset the loss of spin endured with the new ABS balls and thus still enables to produce a modern topspin game based on rotation.
The rubber also comes with high durability: both the tension in the sponge and the stickiness of the topsheet will last for many months at the highest level.
In this product card, the thickness is 2.1 mm. For other thicknesses see the adjacent product.
If you like the purchased product, and you would like to recommend it to others, please share a few words about exactly what you liked it. Help other customers to better navigate the variety of products and make the right choice, and us (the store) in our mission to select the most high-quality and successful products.


Be the first to comment!