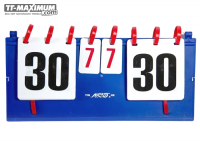 Available
View all
DHS набор for судьи RF102
Price:
608.00 грн
912.00 грн
OR ORDER BY PHONE:
+38 050 250 4 250, +38 093 654 82 83
This is an automatic translation. To view the original article switch the site language to RU.
DHS RF102   Designed for any kind of competition and official table tennis games.
The set contains:
case (wallet, purse) - 1 piece;
set of cards: red - 1 piece, white - 1 piece, yellow - 2 pieces;
Mesh height meter (grid, mesh tension sensor) metal - 1 piece;
Judge's badge - 1 piece (not 2 tokens, as can be seen from the photo - it shows 1 token, which has one side red, the other black).
Judge's set, referee's kit, set of referee's case, set of refereeing DHS in the case, refereeing equipment, set of "Judges cards", set "Judges cards" in the case, a set of tools for the judge
If you like the purchased product, and you would like to recommend it to others, please share a few words about exactly what you liked it. Help other customers to better navigate the variety of products and make the right choice, and us (the store) in our mission to select the most high-quality and successful products.


Be the first to comment!