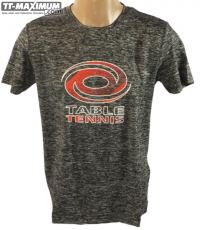 Available
quality T-shirt for playing table tennis and everyday wear
Reviews: 1
View all
STIGA Infinity VPS V
OR ORDER BY PHONE:
+38 050 250 4 250, +38 093 654 82 83
The Infinity VPS V with Diamond Touch is a lightweight 5-ply offensive blade built around two hand-selected middle veneers that are special temperature treated (VPS-technology). This gives the blade a unique stability and the Infinity VPS V is ideal for offensive players who demands good speed combined with control. The final finish by the Diamond Touch technology gives the outer surface extra hardness and an incredibly smooth finish. Lightweight 5-ply offensive blade. Special temperature treated middle veneers (VPS) gives great stability. Surface with extra hardness and smooth finish thanks to the Diamond Touch technology. Built to suite today's modern game: aggressive receives and powerful topspin shots. Used by Fan Zhendong.
If you like the purchased product, and you would like to recommend it to others, please share a few words about exactly what you liked it. Help other customers to better navigate the variety of products and make the right choice, and us (the store) in our mission to select the most high-quality and successful products.