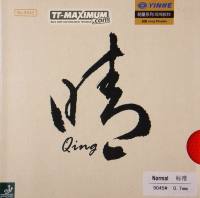 Available
View all
YINHE (Milkyway) 955 OX
OR ORDER BY PHONE:
+38 050 250 4 250, +38 093 654 82 83
This is an automatic translation. To view the original article switch the site language to RU.
YINHE (Milkyway) 955 OX is a long spike with a clutch. About this overlay can be said that it is truly universal, as it perfectly manifests itself in a variety of styles of play, which are possible with the use of long spikes.
First of all, it allows you to fully play in the classic defensive style, that is, to prune the tops in the second and third zone. This provides both a very good reverse of rotation, and the ability to vary the strength of pruning, up to the return of flat balls on the tops (however, it is necessary to be able).
Well allows you to play different variations of classic blocks, both passive and aggressive. On hovering tops and other not fast balls, allows you to make an aggressive insert and even kill with a carpal flick.
It is easy to break from the pruning. Unlike many other long spikes, the 955 OX does not "float" at a click or powerful impact, keeping the desired direction.
The feeling of the ball is medium-hard, the speed is average (for long spikes).
In general, these spikes will suit so many styles of the game.
Factory delivered without scotch.
Note by the name of the company: in some stores write GALAXY instead of YINHE or MILKYWAY, who is interested to know what is the right name of the firm - here's a detail about it.
| | | |
| --- | --- | --- |
| | Speed type: | DEF |
| | Rubber type: | long pips |
| | Surface type: | pips and antispins |
| | Тип губки: | Нормальная |
| | Speed: | |
| | Spin: | |
| | Control: | |
If you like the purchased product, and you would like to recommend it to others, please share a few words about exactly what you liked it. Help other customers to better navigate the variety of products and make the right choice, and us (the store) in our mission to select the most high-quality and successful products.