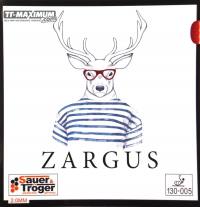 Available
мягкие тензорные короткие шипы, способные на сильное вращение
Reviews: 8
View all
Sauer&Troeger Super Stop
Price:
1,030.00 грн
1,318.40 грн
OR ORDER BY PHONE:
+38 050 250 4 250, +38 093 654 82 83
This is an automatic translation. To view the original article switch the site language to RU.
Super Stop is a modern (development of 2018) antispin from the category of grip. Of course, his traction is very weak, only to improve control and allow him to attack easily. It almost does not react to the incoming rotation. The speed is very low, so the control is high even on fast blades. Mainly intended for table play. But you can also step back into the distance for protection by trimming, trimming easily and there is the ability to give out a strong gash on a strong tops, as well as vary the return of rotation.
A block at the table is possible not only passive, but also a chop block, and even a counterattack on a comfortable ball.
It is very convenient for them to receive serves, since it is insensitive to the incoming rotation, and you can play on receiving serves with varying degrees of aggressiveness, depending on the serve and the intentions of the opponent.
Attacking with comfortable balls is quite comfortable, the main thing is to remember that this is an antispin and not an attacking rubber, and attack in place and not on force.
In terms of speed, the thickness of 1.9 mm from 1.5 mm practically does not differ, but there is a difference in playing properties. The 1.9 mm sponge plays better in the block and attack (more control), and the 1.5 mm sponge is better in undercut defense and produces more difficult balls for the opponent.
Extremely lightweight like long OX pimples.
Delivered without scotch.
See also a detailed video review (in the Video tab).
| | | |
| --- | --- | --- |
| | Speed type: | DEF |
| | Rubber type: | normal antispin |
| | Surface type: | pips and antispins |
| | Sponge type: | normal |
| | Speed: | |
| | Spin: | |
| | Control: | |
If you like the purchased product, and you would like to recommend it to others, please share a few words about exactly what you liked it. Help other customers to better navigate the variety of products and make the right choice, and us (the store) in our mission to select the most high-quality and successful products.