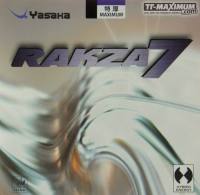 Available
View all
IMPERIAL Swift
OR ORDER BY PHONE:
+38 050 250 4 250, +38 093 654 82 83
This is an automatic translation. To view the original article switch the site language to RU.
Imperial Swift is a high-quality all/off lining made in Japan. Classic overlays without the built-in effect of sticking. Consistently excellent reviews have ensured its deserved popularity among the mass of players.
It is characterized by high control in all defensive actions, as well as power in attack on convenient balls. Highly sensitive due to moderate softness and not very high speed. And so it will be an excellent choice for versatile players, and for moderately attacking players. Very good in the block and for killer flat finishing strokes, as well as for receiving innings due to low sensitivity to the incoming rotation.
It is perfect for both beginners and players of any level playing in tactical all-purpose style, requiring a lot of control in all technical techniques, especially in the intermediate game.
Lets you do everything. In a small thickness is a good fit for a kombi-defender, who needs not only the ability to prune from the lining, but also the ability to attack with a topspin and a flat beat.
Very durable. It has a very tenacious toshpin, which retains its properties for a long time.
Toughness: medium-soft (something in between Sriver FX and Sriver EL)
If you like the purchased product, and you would like to recommend it to others, please share a few words about exactly what you liked it. Help other customers to better navigate the variety of products and make the right choice, and us (the store) in our mission to select the most high-quality and successful products.