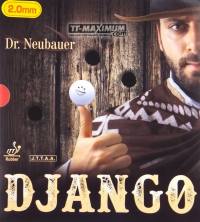 Available
View all
DR NEUBAUER K.O. Extreme
Price:
1,084.20 грн
1,292.70 грн
OR ORDER BY PHONE:
+38 050 250 4 250, +38 093 654 82 83
Our well-known half-long pimple rubber series K.O. and K.O. Pro is now being enhanced by an even more disruptive new version.
K.O. Extreme comes with a new pimple geometry and a new sponge, raising the bar to a new level for this type of rubber.
Blocking, counter-attacking and hitting will produce a surprisingly low bounce, causing major trouble to the opponent and even direct mistakes.
The soft sponge allows for high dynamics while attacking however the rubber requires some practice hours in order to be mastered.
This makes K.O. Extreme a very good alternative for experienced players seeking maximum disruptive effect with half-long pimples, combined with good attacking possibilities.
If you like the purchased product, and you would like to recommend it to others, please share a few words about exactly what you liked it. Help other customers to better navigate the variety of products and make the right choice, and us (the store) in our mission to select the most high-quality and successful products.


Be the first to comment!