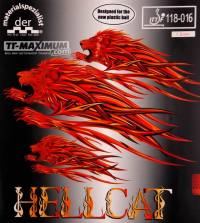 Available
выдающийся контроль в игре у стола, мягкое чувство
Reviews: 2
View all
DR NEUBAUER Goliath Speed 2
OR ORDER BY PHONE:
+38 050 250 4 250, +38 093 654 82 83
This is an automatic translation. To view the original article switch the site language to RU.
Goliath Speed 2 is a seriously improved upgrade of the Goliath Speed lining. From the first version there is excellent control and a small weight lining. At the same time, the second version differs from the first following:
- seriously enhanced rotation, Goliath Speed 2 rotates much more powerfully;
- the feeling of the ball has been significantly improved, now the lining has become even more sensitive;
Red sponge.
The result is a modern attacking overlay slightly softer than medium rigidity, with a very tenacious toshpit, capable of a very strong rotation. But at the same time it is positively different from many other tensors with similar speed characteristics in that it stomps less reacts to the incoming rotation. Thus it gives less marriage in the game, which is especially important for progressive players and amateurs. At the same time, it is fast and powerful in attack. And perfectly manifests itself not only in the top spin and twist, but also in a flat blow. The block is also confident and controlling.
See also a detailed video review (in the Video tab).
If you like the purchased product, and you would like to recommend it to others, please share a few words about exactly what you liked it. Help other customers to better navigate the variety of products and make the right choice, and us (the store) in our mission to select the most high-quality and successful products.