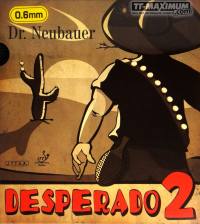 Available
one of the most effective block and chop block pips
Reviews: 7
View all
DR NEUBAUER Desperado Reloaded
Price:
1,042.50 грн
1,334.40 грн
OR ORDER BY PHONE:
+38 050 250 4 250, +38 093 654 82 83
Desperado Reloaded sets a new standard for long pimples.
The rubber reaches new heights in terms of versatility and efficacy:
Passive passive and especially chop-blocking against topspin will produce a very low bounce, making life difficult for the opponent and even provoking direct mistakes.
At the same time Desperado Reloaded is also an excellent weapon for attacking. The rubber does not only enable to produce all standard long pimple attacking strokes such as aggressive pushing and lifting, but also counter-attacking and straight hitting.
The rubber is also highly effective for classical defense, producing very good backspin and a low bounce on the other side of the table.
Desperado Reloaded was specifically developed for use with the latest plastic balls, providing outstanding control in all aspects of the game, both passively and actively.
If you like the purchased product, and you would like to recommend it to others, please share a few words about exactly what you liked it. Help other customers to better navigate the variety of products and make the right choice, and us (the store) in our mission to select the most high-quality and successful products.


Be the first to comment!