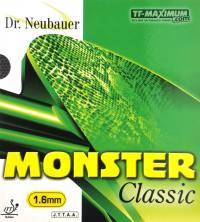 Available
1,185.00 грн
1,066.50 грн
long pips with maximum control and vicious attack
Leave review
View all
DR NEUBAUER Desperado 2
Price:
1,066.50 грн
1,185.00 грн
OR ORDER BY PHONE:
+38 050 250 4 250, +38 093 654 82 83
This is an automatic translation. To view the original article switch the site language to RU.
Desperado 2 is the development of the end of 2017. The manufacturer has chosen as the name of the already existing very popular long spikes Desperado and added to them No2, but unlike the case with smooth overlays, for example Domination Speed II is similar to Domination Speed, just a little better, with these spikes a very different situation. Desperado II is a brand new pad, it does not look like Desperado anything but the name, and even efficiency. That is, the game properties are very different.
Desperado II is slow, with its own good grip, and is able to make a good pruning even on a flat ball. At the same time, surprisingly for strong-pull spikes, it is effective not only in defense in the far zone, but also in the game at the table. Often the hard-hit spikes of the game at the table block and chop-block suffers, often - but not always. And Desperado II has a very good game at the table. And variability is high, that is, you can play different variants of the technique, and the control is excellent, and the effect at altitude.
So this is not a replacement for the first Desperado, but another very successful lining, quite new and different. Rather, it is a replacement for older and less efficient developments from slow and hard-moving spikes. Since it offers more features, better efficiency and higher control than the spikes developed many years ago. And as with many old developments, there is no need to choose "game at the table - or game in the far zone, or this or that", as Desperado II and there and there works superbly, giving and powerful reverse, and easy control and accuracy of the hit.
The OX version is on scotch.
| | | |
| --- | --- | --- |
| | Speed type: | DEF |
| | Rubber type: | long pips |
| | Surface type: | pips and antispins |
| | Sponge type: | normal |
| | Speed: | |
| | Spin: | |
| | Control: | |
If you like the purchased product, and you would like to recommend it to others, please share a few words about exactly what you liked it. Help other customers to better navigate the variety of products and make the right choice, and us (the store) in our mission to select the most high-quality and successful products.