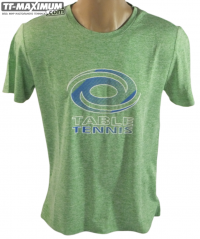 Available
quality T-shirt for playing table tennis and everyday wear
Reviews: 1
View all
DR NEUBAUER Allround Premium
Price:
873.60 грн
998.40 грн
OR ORDER BY PHONE:
+38 050 250 4 250, +38 093 654 82 83
This is an automatic translation. To view the original article switch the site language to RU.
This overlay is even better than her name promises.
This is probably the first rubber with a destructive effect, which allows you to play an aggressive block and even a punch and a counterstrike against other people's topspins. Take the initiative and put your opponent under pressure yourself!
DR NEUBAUER Allround Premium also behaves superbly in passive blows: the ball is very low and tends to "dive" and all this under excellent control.
And the destructive effect increases over time, as after a couple of weeks of use the spikes become a tad ball, and become even more dangerous.
Also, these spikes are great for classical defense in the second or third zone, as they allow the defender to give the ball any amount of rotation, varying the most powerful saws and flat balls at will. The excellent control of Allround Premium in defense allows you to do it, keeping the opponent in suspense - what ball came back to him?
Allround Premium's spikes have unusual geometry, as they are distributed vertically. And the composition of the massacre has new, previously not used components, and all this increases the effectiveness of both passive and defensive play, and attacking and counterattacking strikes.
The red lining has great destructive effects, and black has slightly better attacking properties.
Thus, these spikes can be a very interesting new tool for any spiker interested in getting the maximum efficiency from both its technique and tactics and from the lining.
OX version: factory delivered without scotch.
Note on available thicknesses: the "other thickness" option means that if you wish, we can collect any sponge we have. Sponges can be seen separately in the "Sponges" section. And when ordering in this case, choose the option "other thickness" and specify in the note to the order, what kind of sponge and in what thickness you want. Or consult with us - we will help to pick up if necessary.
DR NEUBAUER Allround Premium Review
| | | |
| --- | --- | --- |
| | Speed type: | ALL |
| | Rubber type: | long pips |
| | Surface type: | pips and antispins |
| | Sponge type: | normal |
| | Speed: | |
| | Spin: | |
| | Control: | |
If you like the purchased product, and you would like to recommend it to others, please share a few words about exactly what you liked it. Help other customers to better navigate the variety of products and make the right choice, and us (the store) in our mission to select the most high-quality and successful products.