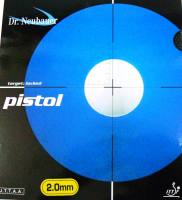 Available
очень мягкие короткие шипы, с большим разрушительным эффектом и уникальными возможностями
Leave review
View all
DR NEUBAUER Aggressor Pro
Price:
780.00 грн
1,029.60 грн
OR ORDER BY PHONE:
+38 050 250 4 250, +38 093 654 82 83
This is an automatic translation. To view the original article switch the site language to RU.
The aggressor is a popular overlay. This updated version of the Aggressor is a little faster. It is suitable for those who like Aggressor, but the speed is a little lacking and do not want to change the base to a faster one. Or to start playing a little more aggressively by increasing the speed of the ball.
The main difference between Agressor Pro and Agressor is that the Pro is better at attack ingess, and it's even better at controlling. Whereas in the passive game Pro version is more demanding to technique and borderivity, and the usual has better control, it is easier to get on the table and it more forgives the imperfection of technology.
See also detailed video reviews (in the Video tab). There are separate reviews on each of the overlays and even a review-comparison of one to the other.
| | | |
| --- | --- | --- |
| | Speed type: | OFF |
| | Rubber type: | middle pips, тензор |
| | Surface type: | pips and antispins |
| | Sponge type: | normal |
| | Speed: | |
| | Spin: | |
| | Control: | |
If you like the purchased product, and you would like to recommend it to others, please share a few words about exactly what you liked it. Help other customers to better navigate the variety of products and make the right choice, and us (the store) in our mission to select the most high-quality and successful products.


Be the first to comment!