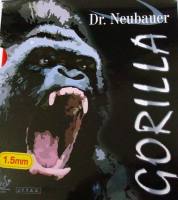 Available
1,668.00 грн
1,167.60 грн
View all
DR NEUBAUER A-B-S 3
OR ORDER BY PHONE:
+38 050 250 4 250, +38 093 654 82 83
This is the second rubber that was co-developed with SpinAssociated from Italy. The result is the slowest version of our world-renowned A-B-S frictionless Anti-Spin rubber series, with the best control.

A-B-S 3 enables very short blocking even against powerful topspin shots with little spin. The usual high level of spin reversal was maintained.
The essential element of this new development is its blue sponge: It provides incredible dampening capabilities, enabling even inexperienced players to handle fast topspin shops without difficulty.

The rubber allows for both very short blocking on one hand and active blocking with a short forward movement on the other hand, in order to change the rhythm of the game.

Control is excellent at all times thanks to the very slow blue sponge.
If you like the purchased product, and you would like to recommend it to others, please share a few words about exactly what you liked it. Help other customers to better navigate the variety of products and make the right choice, and us (the store) in our mission to select the most high-quality and successful products.


Be the first to comment!