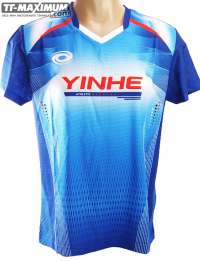 Available
comfortable, stylish, bright t-shirt for table tennis and for everyday wear
Reviews: 4
View all
DER MATERIALSPEZIALIST Spinfire
OR ORDER BY PHONE:
+38 050 250 4 250, +38 093 654 82 83
The goal during the development of Spinfire was to create a short pimple rubber with comparable properties of a pimple-in rubber, whilst maintaining the disruptional properties of a short pimple rubber with extreme high speed values.

The narrowly arranged short pimple heads and the identical rubber compound which has been used with our top seller Firestorm allow for great rotation when serving and during offensive gameplay.

The stellar shot and block capabilities of a short pimple rubber are maintained in combination with very high speed and a flat ball trajectory.

The control values are extremely high for versed short pimple players and even pimple-in players will be able to use Spinfire comfortably after a short while of adjustment.
The OX version without a glue sheet or on a glue sheet is unknown.
If you like the purchased product, and you would like to recommend it to others, please share a few words about exactly what you liked it. Help other customers to better navigate the variety of products and make the right choice, and us (the store) in our mission to select the most high-quality and successful products.


Be the first to comment!