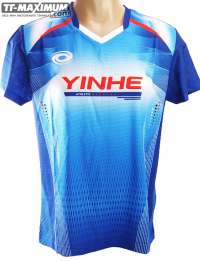 Available
comfortable, stylish, bright t-shirt for table tennis and for everyday wear
Reviews: 4
View all
DER MATERIALSPEZIALIST Spectre
OR ORDER BY PHONE:
+38 050 250 4 250, +38 093 654 82 83
With Spectre der-materialspezialist has invented one of the most innovative and unusual long pimple rubbers that has been released on the world market. 

Not only is the pimple structure  entirely new, but also the rubber compound is unique with very interesting properties.

Spectre especially is suited for near to the table disruptional play with occasional play from the half distance and is hardly impacted by incoming rotation, whilst allowing the whole spectrum of offensive options.
 
The biggest strength of  Spectre is the easy and safe blocking of hard loops and hits, which is enabled through the unique rubber formula properties which cause a deceleration of the ball. Hereby the ball has a disruptional low trajectory with a wobbly effect.

The sponge version of the Spectre enables a more powerful game, thereby the spin development from distance and also close to the table is excellent.

Despite the maximum permissible pimple length, the Spectre can be controlled excellently and offers highest control values.
The OX version without a glue sheet or on a glue sheet is unknown.
If you like the purchased product, and you would like to recommend it to others, please share a few words about exactly what you liked it. Help other customers to better navigate the variety of products and make the right choice, and us (the store) in our mission to select the most high-quality and successful products.


Be the first to comment!