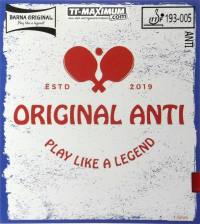 Available
View all
DER MATERIALSPEZIALIST Firestorm 1.5 and 1.8 mm
Price:
951.20 грн
1,115.20 грн
OR ORDER BY PHONE:
+38 050 250 4 250, +38 093 654 82 83
This is an automatic translation. To view the original article switch the site language to RU.
Firestorms are quite unusual pips. Firstly, they are very fast, and secondly, their grip is incredibly strong, like for studs. At the time of the test (April 2018), these are the most heavily hooked pips we know of.
Firestorm's topsheet is very tenacious. The sponge is soft, but not very soft, noticeably denser than, for example, the soft short spines of Spinlord Degu.
Firestorm is a kind of alternative to smooth rubbers. Testing has shown that they can be played with the smooth overlay technique. And in the style of smooth overlays. This is more of a smoother rubber than the usual short pips. Thanks to their very strong grip and aggressive sponge, these pins can be used to swing backhand topspins. Yes, yes, that's right, how you can swing a low ball with a smooth overlay, and a very fast topspin will fly, with a long trajectory twisting into the table. This can be done quite stably, and, moreover, even 1.8 mm thick.
These are probably the only short pips with which you can move away from the table and still be able to play attack with tops. Anyone who has tried it knows that short pips in such a situation are not competitive. And with these pips in a thickness of 2.1 mm you can. The twist and speed of the pad allows.
A short topspin twist from the table can be done with a thin touch, as well as with smooth overlays. The throwing angle of the ball is significantly higher than that of other studs. Well, in general, everything is like inverted rubbers. Still, the grip and spin generated is less than inverted rubbers. Therefore, it will be easier to play with twisted balls. So, these pips can be a good choice if you want to play like a inverted rubber but make spinning easier for you.
When doing tops or heavily twisted serves, Firestorm gives the hand a feeling of stretching the topsheet. When the ball clings to the topsheet, it stretches it, and then it contracts back. This feeling is typical for inverted rubbers, not pips. By the way, the feed can be twisted very strongly with this pips. This is the strong point of the lining.
Of course, this pips cuts too much, and even there is a thickness of 1.5 mm just for playing in defense with elements of attack. The attack will be much more comfortable and easier than with long pips. Moreover, it will be convenient to defend not only by undercuts, but also by all sorts of flat or semi-flat refuse, which are difficult to make with long pips. And these thorns are easy.
The 1.8 mm sponge version always makes its way to the board, except for tops and undercuts on the table. It is strange, but even if you use it topspin backhand, the penetration is not felt. Penetration to the board looks like a feeling of hardness of the rubber. I.e, let's say, you hit a ball on a racket or put a block, but the feeling is that the rubber is hard. Although in fact it is soft. This feeling provides a foundation. With a thickness of 2.1 mm, there will be no penetration to the board and there will be no feeling of hardness either.
Watch also a detailed video review (in the Video tab).
| | | |
| --- | --- | --- |
| | Speed type: | OFF |
| | Rubber type: | short pips, tensor |
| | Surface type: | pips and antispins |
| | Тип губки: | Нормальная |
| | Speed: | |
| | Spin: | |
| | Control: | |
If you like the purchased product, and you would like to recommend it to others, please share a few words about exactly what you liked it. Help other customers to better navigate the variety of products and make the right choice, and us (the store) in our mission to select the most high-quality and successful products.


Be the first to comment!