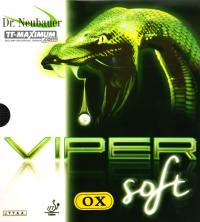 Available
версия с незначительными отклонениями внешнего вида и существенно сниженной ценой
Reviews: 6
View all
DER MATERIALSPEZIALIST Diabolic
Price:
852.80 грн
1,541.60 грн
OR ORDER BY PHONE:
+38 050 250 4 250, +38 093 654 82 83
This is an automatic translation. To view the original article switch the site language to RU.
This is another innovation from the famous manufacturer of antispins. Without grip, such antispins are usually made, and, as the manufacturer claims, with a destructive effect like long pimples. Allows you to make very low and creeping blocks, and along such paths as from long pimples. The new super-soft absorbent sponge allows you to maximize the speed of incoming balls and return them in a controlled manner.
Note on sticking this cover on the blade: the manufacturer recommends doing this only with adhesive tape (scotch)! A video instruction on how to do this is located at this link.
Factory delivered without glue sheet.
| | | |
| --- | --- | --- |
| | Speed type: | DEF |
| | Rubber type: | антиспин стеклянный |
| | Surface type: | pips and antispins |
| | Тип губки: | Демпфирующая |
| | Speed: | |
| | Spin: | |
| | Control: | |
If you like the purchased product, and you would like to recommend it to others, please share a few words about exactly what you liked it. Help other customers to better navigate the variety of products and make the right choice, and us (the store) in our mission to select the most high-quality and successful products.


Be the first to comment!