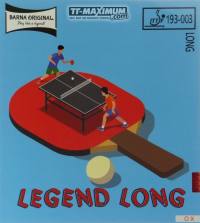 Available
View all
BUTTERFLY Aibiss
OR ORDER BY PHONE:
+38 050 250 4 250, +38 093 654 82 83
High-Standard Friction Rubbers AIBISS is a friction rubber which balances the characteristics of a tacky surface with stable high quality. A specialised top sheet with a pimple shape which enables heavy spin has been combined with a hard sponge; a high reaction is realised, supported with friction, thanks to the applied production technology of Spring Sponge. AIBISS enables heavy spin as well as a curved arc, is recommended for players who aim at making the best use of the characteristics of a friction rubber, using precise technique on the table and counter attacking play.   
Made in Japan.  
If you like the purchased product, and you would like to recommend it to others, please share a few words about exactly what you liked it. Help other customers to better navigate the variety of products and make the right choice, and us (the store) in our mission to select the most high-quality and successful products.


Be the first to comment!