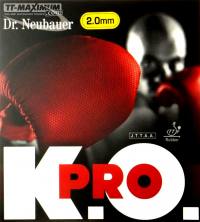 Available
более быстрая и агрессивная версия популярных шипов K.O.
Reviews: 5
View all
PALIO racket 4 Star 2023 Off
OR ORDER BY PHONE:
+38 050 250 4 250, +38 093 654 82 83
This is an automatic translation. To view the original article switch the site language to RU.
This is a rare case, specially selected by us, when a racket assembled at the factory is suitable for playing table tennis. This racquet is made of decent wood and quality rubbers and is well suited for an attacking style of play. As a budget option, as well as for those who do not want to bother with the selection of the base and overlays.
The speed of this racket is clearly attacking. This refers, of course, to the scale of the speed of professional equipment, and not of any of which rackets. All the technical elements of the attacking style of play are comfortable to perform.
It uses a classic wooden base with a soft center layer and hard top layers. Rubbers: on the one hand AK47 and on the other CJ-8000 with a sponge thickness of 2.2 mm. The AK47 is supposed to be on the right, but try whichever fits best.
Compared to the junior model racket (3 stars), this racket is not only faster and more powerful, but also has better control in attack. In addition, she has enough power to play from any zone, including the far one. Both due to thicker overlays, and due to a faster base.
She is able to create a strong rotation and undercuts, and on serves, and when performing topspins and topside shots.
Despite the fact that this racket is much cheaper than those that are assembled from separate components (the base plus a pair of rubbers), it can successfully compete at the amateur level. Because the racket is much less important than the player who controls it. And therefore, due to its own technique and tactics, it is possible to block some of the flaws in the inventory, if any.
As a result, this racket plays quite decently and allows you to learn the technique of all the basic techniques of table tennis. The durability of the rubbers is high, the grip lasts a very long time, in contrast to the "racquets" from the supermarket, even much more expensive ones, or expensive rackets from fashion brands with portraits of champions on the package.
Blade size: 156*149mm.
Weight: 170 g.
| | | |
| --- | --- | --- |
| | Type: | OFF |
| | Rubbers thickness: | 2.2 |
| | Average weight: | 170 |
If you like the purchased product, and you would like to recommend it to others, please share a few words about exactly what you liked it. Help other customers to better navigate the variety of products and make the right choice, and us (the store) in our mission to select the most high-quality and successful products.


Be the first to comment!