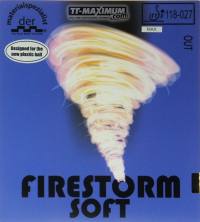 Available
Soft version of popular short pips; thickness 1.5 mm, 1.8 mm
Leave review
View all
REvolution №3 water glue 10 ml
OR ORDER BY PHONE:
+38 050 250 4 250, +38 093 654 82 83
This is an automatic translation. To view the original article switch the site language to RU.
REvolution No.3 is the most modern and advanced development of water glue for table tennis. It is convenient to use with a special (included) sponge to apply an elastic layer of glue of the correct thickness - to get better speed, rotation and control from the racket.
To date, it is probably the most convenient to use water glue of all presented on the market. He also 100% passes all ITTF tests, which is important for those tennis players who play in international competitions.
This glue is clean and eco-friendly, it is perfectly glued, and it is easy to remove from the surface of the lining when necessary. That, by the way, can be said not about every type of water glue, as many of them are not easy to remove and not fast.
This glue is the third component of your racket (except for the base and overlays). And it is also important for the full operation of the racket, to achieve synergy between the base and the overlays.
Also, it differs favorably from other types of water glue in that it is not afraid of frost even -20 degrees! However, if it freeze/defrost more than twice, it will still spoil, but to freeze more than two times to -20 should try very hard, so it is unlikely that anyone is in danger.
| | | |
| --- | --- | --- |
| | Type: | water glue |
| | Frost resistance: | yes |
If you like the purchased product, and you would like to recommend it to others, please share a few words about exactly what you liked it. Help other customers to better navigate the variety of products and make the right choice, and us (the store) in our mission to select the most high-quality and successful products.


Be the first to comment!