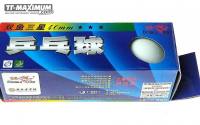 Available
GOALS BALLS 3 ITTF, official ball of the 2008 Olympic Games in Beijing
Reviews: 5
View all
TSP Reflex-50 Award ALL
An excellent blade for pressurized allround playing. It has a large potential for fast topspins as well as for passive blocking. At the same time the half Reflex dampening layers in the grip give amazing control. A perfect blade for variable allround game.
If you like the purchased product, and you would like to recommend it to others, please share a few words about exactly what you liked it. Help other customers to better navigate the variety of products and make the right choice, and us (the store) in our mission to select the most high-quality and successful products.


Be the first to comment!