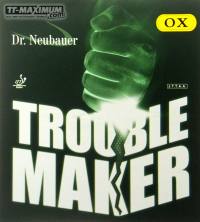 Available
"problem maker for opponents" when playing at the table
Leave review
View all
LION Defence
This is an automatic translation. To view the original article switch the site language to RU.
The lion defence base is a clone of the STIGA Tube Def :).
The handle is also different, and it's smoother and more comfortable for LION Defence.
Game properties: the speed is very small, the control is very high. The base is very thin and very flexible, with a good sense of recoil in the hand.
For the purpose of this basis for classical protection: pruning, pruning, pruning, sometimes episodic attack. For modern defense with a large number of attacks/counterattacks should not be considered, because even with the bulls of high speed does not work. However, it is quite suitable for playing in the near zone, for those who like very slow bases, with the shortest bounce from long spikes. The reverse of the rotation turns out to be good.
Type:
DEF-
Composition:
wood
Blade size:
oversize

161*157

Average weight:
65
Layers:
3
Thickness:
5.0 mm
Control:
Speed:
If you like the purchased product, and you would like to recommend it to others, please share a few words about exactly what you liked it. Help other customers to better navigate the variety of products and make the right choice, and us (the store) in our mission to select the most high-quality and successful products.