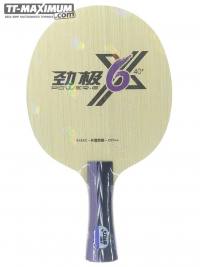 Available
1,372.80 грн
1,144.00 грн
5 layers of wood with 2 layers of arylate-carbon (ALC)
Leave review
View all
JOOLA Air Carbon
OR ORDER BY PHONE:
+38 050 250 4 250, +38 093 654 82 83
JOOLA presents two first class blades classed into the lowest weight category. Due to a special drying process and a prolonged storage period of the wooden veneers, the moisture in the wood has been extracted to a very high degree. The result ist two extremely light blades with excellent playing characteristics. The player needs less power to hold the racket, which can then be invested in concentrating on controlled movements when playing a shot.
A special and costly selection process during each production step guarentees that the given weight values are strictly followed and are guarenteed by JOOLA.
The JOOLA AIR Carbon is the offensive version of this series. The JOOLA AIR fundamental character is maintained, due to the 5mm thick Balsa core: unique playing feeling and controllability. This version is also an absolute lightweight with a guarenteed 71-72g. The player profits from the saved power and can invest it in his/her game. Due to the two Carbon layers, the JOOLA AIR Carbon gains also in speed and precision for the offensive game.
If you like the purchased product, and you would like to recommend it to others, please share a few words about exactly what you liked it. Help other customers to better navigate the variety of products and make the right choice, and us (the store) in our mission to select the most high-quality and successful products.


Be the first to comment!