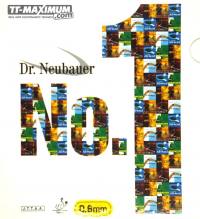 Available
длинные шипы для тех, кто любит максимальный контроль и точность
Reviews: 2
View all
DR NEUBAUER Bloodhound ALL+
Price:
1,653.60 грн
1,965.60 грн
OR ORDER BY PHONE:
+38 050 250 4 250, +38 093 654 82 83
Bloodhound is one of the most effective blades on the market for pimple-out and Anti-Spin players.
This new version Bloodhound ALL+ has a very similar plywood composition and still offers maximum effectiveness with this type of rubbers. Both the spin reversal while blocking with frictionless Anti-Spin as well as the wobbling effect when playing with long pimples could be maintained at the highest level.
Bloodhound ALL+ still comes with Spruce, Ayous and 2 layers of carbon material.
The addition of 2 plywood layers gives more speed without altering the overall character of the blade.
 All in all Bloodhound ALL+ provides the same effectiveness while blocking, yet with more speed for all offensive shots, be it with inverted or fast pimple-out rubbers.
The blade is well balanced and offers good control despite its rather rigid plywood composition.
Type:
ALL+
Composition:
composite
Blade size:
standard

157*153 мм

Average weight:
85
Layers:
7
Thickness:
6.0 mm
If you like the purchased product, and you would like to recommend it to others, please share a few words about exactly what you liked it. Help other customers to better navigate the variety of products and make the right choice, and us (the store) in our mission to select the most high-quality and successful products.


Be the first to comment!