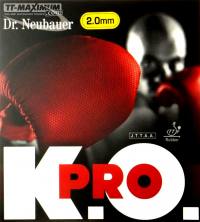 Available
более быстрая и агрессивная версия популярных шипов K.O.
Reviews: 5
View all
YINHE (Milkyway) balls 40+ ABS Blue Heart Training: 1 ball
OR ORDER BY PHONE:
+38 050 250 4 250, +38 093 654 82 83
This is an automatic translation. To view the original article switch the site language to RU.
These 40+ plastic balls from YINHE (using seam technology, that is, with a seam) are a traditional offer of good quality for this company for a more than adequate price. Especially when compared with similar products from expensive firms. These balls are made of modern ABS plastic.
These balls are about the same quality as Green 1* balls from the same company, and differ from them in small nuances, but on the whole the same level. So for the price they are very good. They will also give odds in quality to many noticeably more expensive balls from other companies.
Along with Green 1* - this is one of the best options for balls for a robot or multi-ball training, if the budget is not unlimited. Since their price is very modest, and at the same time they are durable and have the right stiffness and the right weight. And the geometry is tolerable.
This product contains balls by the piece. If you want to buy a large quantity, it is more profitable to take a neighboring product - a pack of 100 pieces. And if you want several packs - ask for a wholesale discount.
Note on the name of the company: in some stores they write GALAXY instead of YINHE or MILKYWAY, who is interested in knowing the correct name of the company - here is more about it.
| | | |
| --- | --- | --- |
| | Rank: | training |
| | Package: | by the piece |
| | Category: | balls |
| | Material: | plastic 40+ seam |
If you like the purchased product, and you would like to recommend it to others, please share a few words about exactly what you liked it. Help other customers to better navigate the variety of products and make the right choice, and us (the store) in our mission to select the most high-quality and successful products.